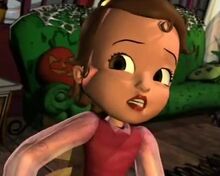 Hannah Marie is a little cousin of Jimmy. She is seen in the first movie dressed as a Fairy Princess, then is the second film she dressed up as a Fairy Queen. She meets and befriends many inhabitants of the Frightside, even though she started out being terrified of monsters. Out of all her monster friends she is very close to Scary Godmother. She is voiced by Britt McKillip in both of the first and second film.
Personality
Hannah Marie is a very sweet little girl and is at the age where most little girls like pink things and stuffed animals. It doesn't diminish with her new love of Halloween after the events of the first movie. Hannah Marie is much beloved by her friends in the Frightside and they like to help her out when they can.
Appearance
Hannah Marie is a young girl, with short brown hair and big brown eyes.
Hannah is first seen trying to keep up with Jimmy, in the grave yard.
Relationships
Scary Godmother: They both seem to have a close relationship
Jimmy: Cousin
Orson: Both Orson and Hannah show that they have a crush on each other in both flims.
Trivia
Gallery
Check out Hannah Marie's Gallery Here.